FLIGHT, the universal washbasin


A modern design, beside of being charming, amazing, emotional and innovative, must generate some thing functional and accessible. Flight is a technical sink with all these characteristics, unique of its kind, which has lined new horizons of projecting in the sanitary field. A sink for everyone. The contemporary design responds to the needs of respect of the right to equity, gradual aging of the population and economic saving, thus avoiding the creation of restrooms specifically dedicated to disable people. Flight is conceived for those who suffer of temporary or permanent motion problems, for ordinary users, for children.
Brightness and lightness
Made of one molded piece of Corian®, which expresses levity and transparency, Flight represents a light in the field of restrooms for disables, which is instead often characterized by an orthopedic and forcefully technical look. Flight, with its soft and sinuous lines, overcomes, as in a flight, the esthetical barriers that are fruit of frequently misinterpreted norms.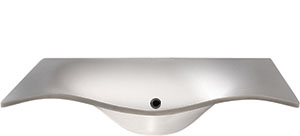 Elegance
The research of an element easily usable in public and representational contexts such as offices, hotels, restaurants and house led to the development of the Flight sink. A new occasion for Goman to prove that norms and the right to safety in restrooms are not necessarily synonyms of technical and unpleasant spaces
Accessibility
Flight is a sink equipped with unique technical properties that make the using maneuvers easy and simple also to people with moving difficulties. The thin single piece, that gives more space to the knees, the fixed inclination of the plane and the concave front edge with elbows supports, consent to avoid pneumatic mechanisms of regulation, thus allowing the coming closer and an easier use to everyone. Ergonomics, safety, functionality and accessibility are the guidelines of Flight.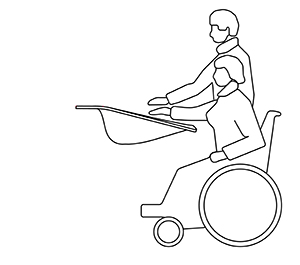 Technical specifications
Universal sink, made of one molded piece of white or translucent Corian® 12 mm thick, equipped with elbows standing plane inclined of 11° and concave front edge to make easier the coming closer and the rotation maneuvers on the wheelchair. It is delivered pre-assembled, equipped with overflow prevention device made of chromed brass and fixing stirrup made of zinced and painted steel with 4 points of wall anchorage. Total weight 12 kg. Resistance to charge 150 kg.
Corian® DuPont™
Corian® is an inert, non-toxic and ecological material (green guard certification for indoor air qualify certified), with good resistance to chemical products and UV rays. It is easy to clean and to restore in case of scratches or small brakes. www.corian.co.uk
Design
Flight is the expression of a team work: Massimo Rodighiero, architect and Francesco Rodighiero, designer have translated the needs and the inputs of the Research & Development department directed by Rossano Zambelli, in a process of synthesis that has led to the realization of a sink of organic and sinuous forms. The "Flight" wash basin value, already installed in surroundings as Rome airports, new hotels building up to serve people visiting EXPO 2015, cultural places in Florence, Spa in Northern Italy, touristic places in Naples and Palermo, and in several private houses, has been immediately recognized by authoritative international institutions of design, as:
iF product design Award, Germania 2010;
Designpreis Deutschland nel 2011;
Wt award nel 2010;
ADI design index, Italy 2011;
Premio de diseño Habana, Cuba 2011;
and in 2014, "Flight" has been now selected as participant to the XXIII Edition of Premio Compasso d'Oro.
---