BATH TUBS WITH DOOR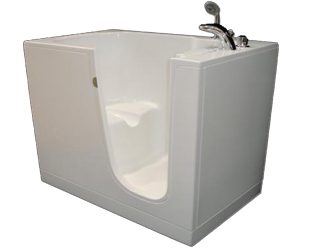 A safe and quick access to the bathtub is essential for people with reduced mobility such as elderly and disabled people. The walk-in bath tubs, also called tubs with door are the best solution to ensure complete safety, comfort, relaxion and well-being.
A bath tub with door equipped with comfortable seat which avoids falls caused by slippery surfaces.
Oasi and Doorex series: bath tubs with door by Goman
The bath tubs with door of our Oasi and Doorex series have been specifically designed to make access to tubs as safe as possible. They are ergonomic, with a very low entrance step and a comfortable, wide and sliding-proof seat.
The bath tubs for elderly and disabled people offered in these elegant bathing series by Goman are equipped with a comfortable inside opening door which ensures perfect water tightness over time .
In particular the bath tubs with door of the Oasi and Doorex series are made of a fibreglass, gel-coated base with a self-supporting stainless steel frame, adjustable legs and easily removable side panels allowing for better maintenance and cleaning.
How to use the bath tub with door
Using the bath tub with side door is very easy: after sitting down, just rotate the legs in order to find the best and safest position, then fill the tub with water.
A tailor-made bath tub
Our Oasi series allows to choose the bath tub with door which best meets the needs of elderly or disabled people, as well as the space requirements of the environment where it is installed.
We can provide bath tubs with door in different lengths and sizes, ideal to fit in renovation of existing bathrooms. All bath tub models of the Oasi series are available with left or right side door in order to meet any requirements of positioning.
Accessories
The bath tubs of our bathing series are supplied complete with both side panels, bath tub column with overflow, taps and shower attachment as standard. Bath tub installation is very simple: just connect it to the hydraulic system; no need to have specific skills or additional elements.
Complete your bathroom
Furthermore Goman® catalogue offers the largest selection of supporting bars, shower seats, safety accessories, furnishing and fixture aids, and many more products needed to complement and ensure a comfortable and safe bathroom, making it elegant and usable by the whole family in a safe and autonomous way, still ensuring equal dignity to elderly people.
Subsidies for private citizens
The decree 236 of 1989 introduced tax benefits and IRPEF deductions in order to encourage the removal of architectural barriers, also in case of renovation of an existing bathroom in order to meet any new needs which could arise in the home environment.
Exclusive novelty by Goman: New Age furniture
Goman proposes a new bathroom furniture concept which is the result of research for comfort and accessibility in combination with the Oasi bath tubs. The bathroom environment becomes "easy" to use and multipurpose aimed at simplicity of use.
The New Age collection with integrated pull-out chair is the best choice for the whole family and for those who need a versatile, elegant and comfortable bathroom. A single stylish bathroom furniture that can be used by everyone, children, adults or people with reduced mobility.